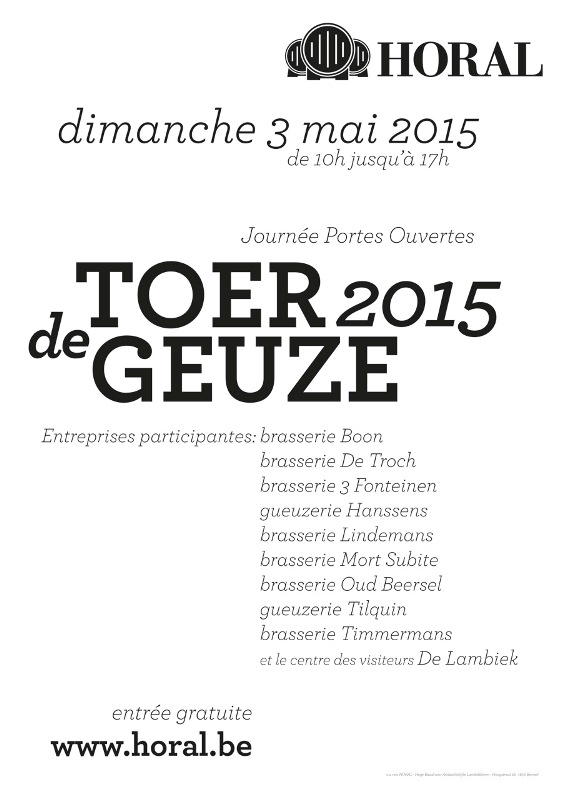 The day after the Tilquin English Beer Festival, the Gueuzerie Tilquin participates to the Toer de Geuze 2015. On that day, the Gueuzerie Tilquin proposes you free guided tours of the blendery and a free glass of lambic for each visitor.
During this event, it will be possible to taste our different products :
– Gueuze Tilquin à l'ancienne
– Gueuze Tilquin – draft version
– Quetsche Tilquin à l'ancienne (in 2 versions : with Prunes de Namur or with Quetsches véritables d'Alsace)
– Blending of lambics
– Meerts
– Faro
– Oude Geuze Mega Blend 2015
And as a premiere for the weekend of May 2 and 3, the new Mûre Tilquin à l'ancienne (blackberry lambic refermented in the bottle) will also be available for tasting, but in limited quantities.
For eating, there will be roasted pork plates with vegetables, sausage breads, hamburgers from Chez Roger, as well as our usual slices of bread with white cheese (plattekaas) or eels from Chimay.
There will also be a bouncy castle for children.
And it will be possible to buy all our products to the store.
Everyone welcome!