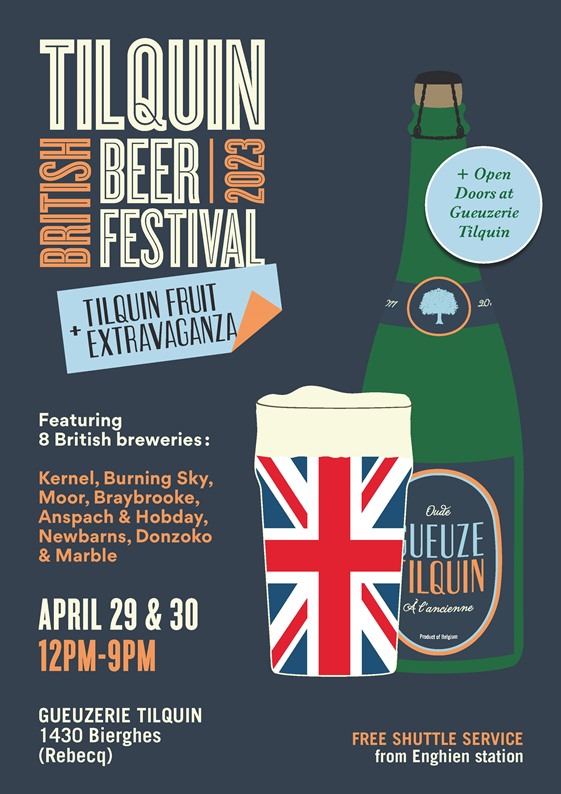 After the cancellation of the 2020 edition, we are very happy to be able to organise another edition of the long awaited Tilquin British Beer Festival + Fruit Extravaganza.
For this edition, 8 of the most innovative breweries of the British beer scene will be present to let you taste their products:
Here is the list of invited breweries:
– The Kernel Brewery (London)
– Burning Sky Brewery (Firle, East Sussex)
– Drink Moor Beer (Bristol, Gloucestershire)
– Braybrooke (Market Harborough, Leicestershire)
– Anspach & Hobday (London, Croydon)
– Donzoko (Leith, Edinburgh)
– Newbarns (Leith, Edinburgh)
– Marble (Manchester)
During the event, there will be regular free guided tours of the Gueuzerie Tilquin, as well as a free glass of lambic for every visitor.
In addition to 4 different beers from each of the UK breweries on tap, a wide range of our beers will be available in the bar at the Gueuzerie Tilquin. We promise you a lot of lambics or fruit meerts on draught!
This weekend will also see the launch of 4 new beers (!) in the Gueuzerie Tilquin range:
– Gueuze Tilquin à l'ancienne – Cuvée Jean-Paul (75cl)
– Gueuze Tilquin à l'ancienne – Cuvée Marie-Catherine (75cl)
– Gueuze Tilquin à l'ancienne – Cuvée Paul (75cl)
– Rhubarbe Tilquin – Draft Version (on draught)
For the hungry, there will be various foodtrucks: Bia mara with their fish & chips and Tartempion with their wraps and ballekes.
There will also be a bouncy castle for the little ones.
And it will be possible to buy all our products in the shop as well as a selection of the English beers offered at the festival.
Price of the entry pack:
– Pre-sale: 25 EUR (entry + wristband + glass + beer list + 7 tokens)
AVAILABLE AT THE FOLLOWING LINK UNTIL FRIDAY 28 OF APRIL IN THE EVENING: https://www.billetweb.fr/tilquin-british-beer-festival-2023
– AT THE ENTRANCE : 25 EUR (entrance + wristband + glass + beer list + 6 tokens)
Entrance valid for both days if you keep your wristband and glass.
– Entrance for non beer drinkers(BOB) : 12 EUR (entrance + wristband + 1 token for a soft drink).
– Entrance for people who want less than 6 tokens: 12 EUR (entrance + wristband + glass).
– Free entrance for children under 12 years old.
Beers will be on 1 or 2 token(s) for 15 cl. The price of a token is 2,50 EUR.
Token packages (at the entrance of the festival site) :
– 10 + 1 free: 25 EUR
– 20 + 3 free: 50 EUR
Welcome to all
Date:
29 APRIL from 12pm to 9pm
and on 30 APRIL from 12 to 9 pm
Address:
Gueuzerie Tilquin S.A.
Chaussée Maïeur Habils, 110
1430 Bierghes (Rebecq)
For your comfort, regular shuttle bus between ENGHIEN station and BIERGHES.
Here is the schedule (same schedule for both days):
Departure from Enghien-gare to Bierghes
11.30 – 12.00 – 12.30 – 13.00 – 13.30 – 14.00 – 14.30 – 15.00 – 15.30
—- DRIVER'S BREAK
17.15 –17.45 – 18.15 – 18.45 – 19.15 – 19.45 – 20.15 – 20.45 – 21.15
Departure Bierghes to Enghien
11.45 – 12.15 – 12.45 – 13.15 – 13.45 – 14.15 – 14.45 – 15.15 – 15.45
—- DRIVER'S BREAK
17.30 – 18.00 – 18.30 – 19.00 – 19.30 – 20.00 – 20.30 – 21.00 – 21.30