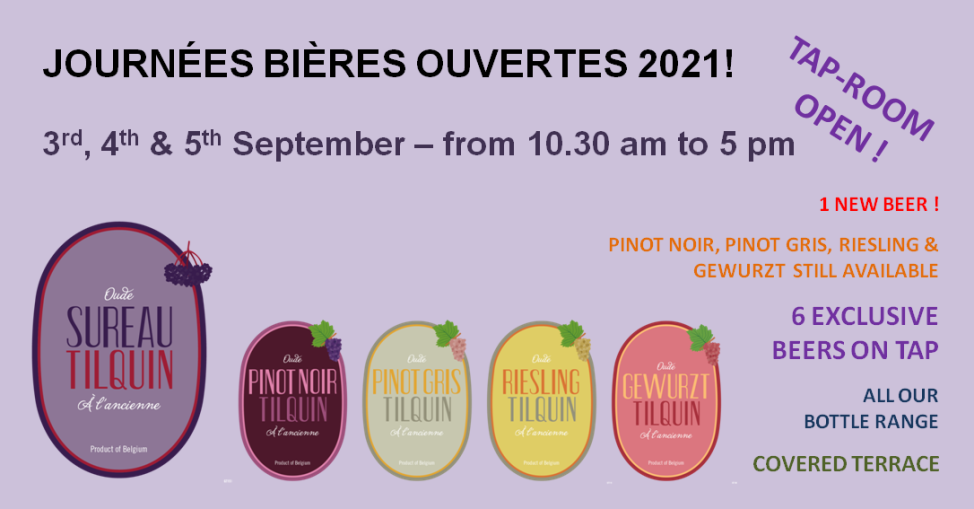 Open Beer Days, on the 3rd, 4th & 5th September 2021, on the occasion of the release of a new beer :
the SUREAU TILQUIN A L'ANCIENNE (sold in a limited pack 12×37,cl with 3×37,5cl Elderberry + 9 other 37,5cl bottles, and in a pack 6x75cl with 2x75cl Elderberry + 4 other bottles).
In addition, the Full and Half Grape Lambic Pack are still available (consisting of the Pinot Noir Tilquin à l'ancienne, the Pinot Gris Tilquin à l'ancienne, the Riesling Tilquin à l'ancienne and the new Gewurzt Tilquin à l'ancienne, released in June, + 4 or 2 other 75cl).
On this occasion, several of our products will be for sale to take away and the tasting room and its terrace (an additional tent will be installed for the occasion) will be open all day.
We will also have 6 exclusive beers on tap and all our beers in bottles for tasting.
Everyone is welcome!