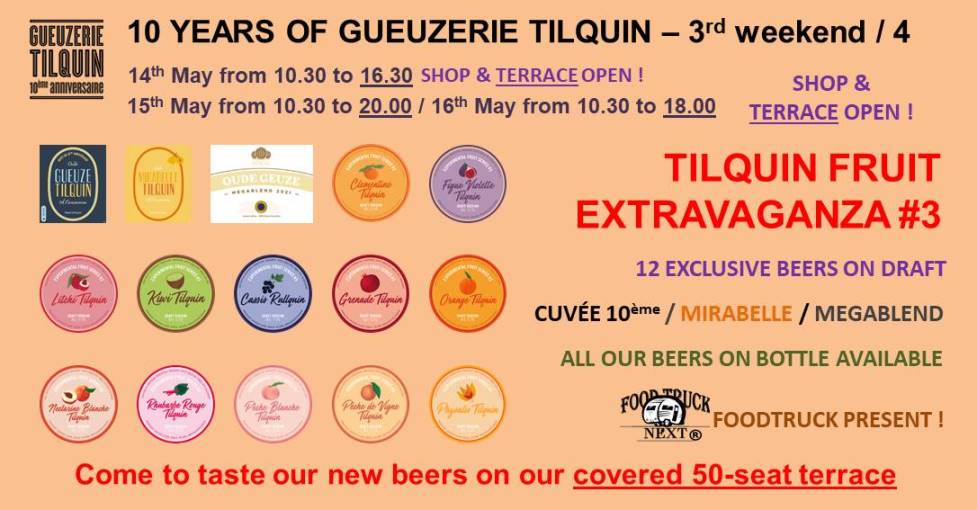 TERRACE & SHOP OPEN these 14, 15 and 16 May 2021 on the occasion of the TILQUIN FRUIT EXTRAVAGANZA #3
On this occasion, 12 exclusive beers on tap will be offered to you:
– EFS#3 – Nectarine Blanche Tilquin 5.8%
– EFS#3 – Rhubarbe Rouge Tilquin 5.0%
– EFS#3 – Pêche Blanche Tilquin 6.2%
– EFS#3 – Pêche de Vigne Tilquin 6.2%
– EFS#3 – Physalis Tilquin 6.0%
– EFS#3 – Figue Violette Tilquin 6.4%
– EFS#3 – Orange Tilquin 5.5%
– EFS#3 – Grenade Tilquin 6.5%
– EFS#3 – Cassis Rullquin 7.3%
– EFS#3 – Kiwi Tilquin 5.7%
– EFS#3 – Litchi Tilquin 5.5%
– EFS#3 – Clémentine Tilquin 6.3%
With of course, our classic
– Gueuze Tilquin – Draft version 5.3%
It will also be possible to taste on site the Gueuze Tilquin à l'ancienne – Cuvée du 10ème anniversaire, the Mirabelle Tilquin à l'ancienne and the Oude Geuze Megablend 2021.
All our bottled beers will also be on the menu!
On this occasion, our shop will be open for take-away and our covered terrace with 50 places (tables of 4 maximum) will be open all day.
Everyone is welcome!
No reservation necessary.
Payment by card or cash both in the shop and on the terrace.
COVID rules apply:
– wearing of a mask is compulsory when moving around
– table service only
– bubble tables of 4 or 2
– separate terrace and shop area