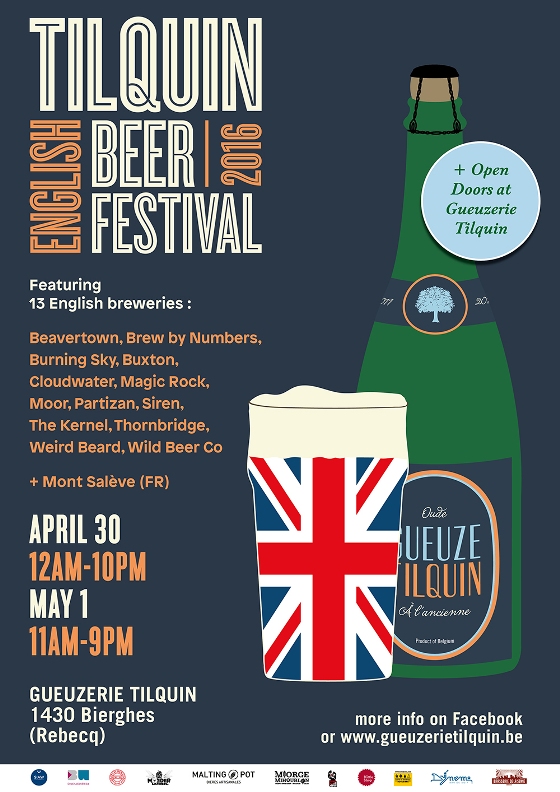 For the second year, the Gueuzerie Tilquin organizes an English Beer Festival with a selection of 13 breweries amongst the most innovative of the English craft beer scene, as well as with one additional guest.
Here is the list of the invited breweries :
– Beavertown Brewery
– Brew by Numbers
– Burning Sky Brewery
– Buxton Brewery
– Cloudwater Brew Co
– Magic Rock Brewing
– Moor Beer Company
– Partizan Brewing
– Siren Craft Brew
– The Kernel Brewery
– Thornbridge Brewery
– Weird Beard Co
– Wild Beer Co
+ 1 additional guest:
– Brasserie du Mont Salève (FR)
On this event, the Gueuzerie Tilquin proposes you free guided tours of the blendery and a free glass of lambic for each visitor.
On the festival, it will be possible to taste our different products :
– Assemblage Tilquin (lambic)
– Faro Tilquin
– Gueuze Tilquin – draft version
– Gueuze Tilquin à l'ancienne
– Quetsche Tilquin à l'ancienne (in 2 versions : with Prunes de Namur or with Quetsches véritables d'Alsace)
– Mûre Tilquin à l'ancienne
– Stout Rullquin
For eating, there will be different foodtrucks (fish and chips, jacked potatoes, hamburger, sausage breads), as well as our usual slices of bread with white cheese (plattekaas) or eels from Chimay.
There will also be a bouncy castle for children.
And it will be possible to buy all our products to the store of the festival, together with a selection of the English beers proposed at the festival.
Price entry packs:
– 14 EUR (entry + glass + beer list + 4 tokens)
– 25 EUR (entry + glass + beer list + 12 tokens)
The entry is valid for the two days.
Beers will be on 1 or 2 token(s) for 15 cl. The price of a token is 1.50 EUR
Everyone welcome!
Date:
APRIL 30 – 12am-10pm
MAY 1 – 11am-9pm
Address:
Gueuzerie Tilquin S.A.
Chaussée Maïeur Habils, 110
1430 Bierghes (Rebecq)
Regular Shuttle between ENGHIEN-station and BIERGHES
Saturday, April 30 :
DEPARTURE FROM Enghien-station to Bierghes
11h00 – 11h30 – 12h00 – 12h30 – 13h00 – 13h30 – 14h00 – 14h30- 15h00
—- PAUSE OF THE BUSDRIVER
18h15 – 18h45 – 19h15 – 19h45 – 20h15 – 20h45 – 21h15 – 21h45
DEPARTURE FROM Bierghes to Enghien-Station
11h15 – 11h45 – 12h15 – 12h45 – 13h15 – 13h45 – 14h15 – 14h45
—- PAUSE OF THE BUSDRIVER
18h00 – 18h30 – 19h00 – 19h30 – 20h00 – 20h30 – 21h00 – 21h30 – 22h00
Sunday, May 1 :
DEPARTURE FROM Enghien-station to Bierghes
10h00 – 10h30 – 11h00 – 11h30 – 12h00 – 12h30 – 13h00 – 13h30- 14h00
—- PAUSE DU CHAUFFEUR
17h15 – 17h45 – 18h15 – 18h45 – 19h15 – 19h45 – 20h15 – 20h45
DEPARTURE FROM Bierghes to Enghien-Station
10h15 – 10h45 – 11h15 – 11h45 – 12h15 – 12h45 – 13h15 – 13h45
—- PAUSE DU CHAUFFEUR
17h00 – 17h30 – 18h00 – 18h30 – 19h00 – 19h30 – 20h00 – 20h30 – 21h00